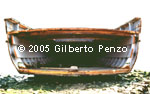 Section of a lagoon boat.
For the vast majority of tourists who spend just a few hours in Venice, all the boats in the canals are gondolas. In actual fact there are at least a hundred types of boat each of which were developed to respond to a specific need.
The salient .characteristics of these boats are: the flat bottom that enables the boat to reach the furthest recesses of the lagoon, the rowing style 'alla veneta' where the oarsman faces forwards and uses the characteristic rowlocks (forcole); the large rudder that also functions as a keel fin and which can be adjusted to adapt to the depth of water available, and the lugsails and rigging. Another characteristic shared by all types of Venetian boats, even those used for the humblest task, is their extraordinary elegance.
Each of these boats is photographed and inserted in a large database in which a brief record holds the most significant information such as: date, where it was built, the name of the boatbuilder, dimensions, equipment, etc. For the rarest and most interesting boats we make a more detailed survey of the boat, both in terms of its general shape and in the details of its construction in order to create a 'knowledge base' that can be referred to for restoration work, replicas or modelmaking.
This is a long and difficult task, so any contributions to this catalogue will be greatly appreciated.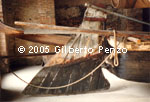 'Port rudder' of a bragagna.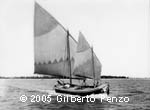 Bragosseto with lug sails (vele al terzo).