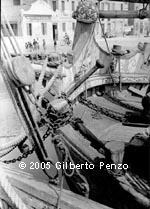 Interior of a trabacolo (trabaccolo).
Photographs and films are a valuable source of information. Fortunately, since the invention of this technique in the mid-nineteenth century, Venice and Chioggia have been the favourite locations photographers. This means that a large number of historical photographs are available, many of them on photographic plates which - with their sharp images - allow the reconstruction of parts that otherwise would have been lost.
Despite the apparent objectivity provided by photography, it is important to bear in mind that images are sometimes 'enhanced' to add interest. Although they use real material, photographers can give false results. For example, the boatbuilder who is calking the inside(!) of a boat, or the group of people who are hauling a bragosso (bragozzo) by hand, when this would actually require a powerful winch (in any case, the photograph shows that the bragosso has already been secured on its supports).